As we are growing up, our parents likely spend time worrying about us.
But, now, as they age, we find ourselves worried about them.
Did mom take her medication? Did she make it safely to her appointment today?
Do you have a loved one alone with no one to check on them every day? Did you know some companies offer an automated check-in service to keep you and your emergency circle in the loop?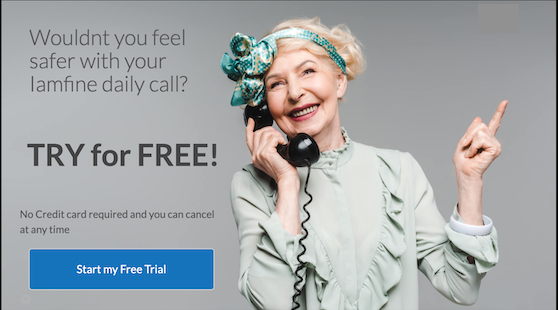 Daily Check-in Service for Your Loved Ones
One of these services is Iamfine; in 2012, two brothers caring for their mother in a different state wanted to create a solution for boomers, seniors, and their caregivers.
It's very low-tech and straightforward; the only thing needed is a phone, landline, or mobile is fine. Here's how it works:
Set a time to be called each day – Maybe this will be first thing in the morning before mom goes out for the day.
When mom receives the call, she can push 1 if she's okay. – They can send the alert to her cellphone, so she receives it even if her schedule changes.
Create a list of emergency contacts that will get notified if she isn't okay. For example, if you have a brother or sister, you can add them to the list just in case you aren't available.
You will receive a text message that says, "Your loved one has checked in." But more importantly, they'll notify you if they cannot reach her or she doesn't check in. The service will try multiple times to reach mom and keep a log of attempted calls.
If your loved one lives with pets, they may be concerned about what will happen to them if something were to happen. For example, you can add neighbors to the care circle who would help care for their pets.
The service is entirely customizable; you can even check-in before your scheduled call by calling in or logging into the website.
Conclusion
What I like most is that the service is family owned and managed by genuine and thoughtful people.
Unlike medical alert devices, your loved one doesn't need to wear anything or remember to carry something extra, this could be a great alternative to a medical alert button.
The cost is reasonable at $14.99 a month; with a free 14-day trial, this video shows you how it works. You don't need a credit card, and no special equipment is required.
Now you can rest assured that Iamfine is offering a beneficial service, especially for those who are living alone, their families and friends don't have to feel the burden of supporting them as they age at home.
You may also like