We've curated some thoughtful gift ideas for seniors to make life safer, easier, and more enjoyable.
We've included some practical gifts that are also meaningful and some gift ideas for older adults that they may not buy for themselves.
Tech Gifts
Hp Instant Ink
Printer ink subscription service
Instant ink is a subscription service that syncs with your printer to automatically keep you updated on printer supplies. When your printer gets low, it delivers new cartridges right on time.
ResponseNow
Belle+ Medical Alert
The Belle+ is the flagship medical alert device from ResponseNow that can be worn around the neck as a pendant or in your pocket or purse. With fall detection, you'll never have to worry about mom or dad falling and being left unattended on the floor for hours or days. It's 4-G enabled, so it can go anywhere there is a cellphone signal with a full charge in 5 hours.
The Lexie Lumen is a Bluetooth-enabled hearing aid that can be customized according to your hearing profile on the Lexie app.
Experience the power of reliable, high-quality hearing aids.
GrandPad
This specially designed tablet for seniors and older people was designed for those who want to stay connected without all the complicated app stores and functions. With picture and video-taking abilities, this tablet can make and take phone and video calls and surf the internet, all while keeping caregivers in the loop.
InsideTracker
This app can help you find your Inner Age, discover what is causing you to age, and create an improvement plan you can follow and be held accountable to.
RAZ Memory Cellphone
This smartphone is for seniors with dementia and Alzheimers. Caregivers can stay in touch and manage communication with their loved ones using a mobile app and dashboard.
Keepsake Gifts
Pink Box Accessories
Personalized photo charm necklace
Stay on mom's mind with this personalized photo charm necklace commemorating an event or special occasion.
Gifts to entertain and engage
Puzzle Master
Cluebox: Davy Jones' Locker – 60-minute Escape Room in a box
Challenge your loved one with this interactive box with various puzzles, which have to be solved one after the other to open the box. In other words, this is an Escape Room in a handy format! Perfect for mental stimulation. Puzzle Master has a massive selection of wooden, metal, wire, 3-D, and Japanese puzzles.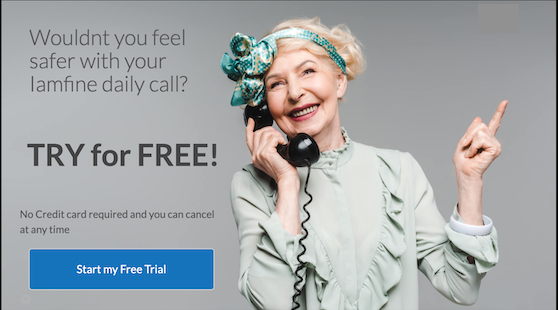 Gifts that reduce anxiety
Joy For All
Companion Pet Cat
This realistic companion cat from Joy for All has sensors that respond to touch and make cat-like motions and sounds. Perfect for a lonely adult.
Organic Wellness Gifts
COVID-AWAY™️ FREELY TINCTURE
Immunity Tincture with 750 mg CBDA + 750 mg CBGA + Vitamin D + Zinc
Strengthens your immune system: Oregon State research shows hemp compounds (CBDA + CBGA) prevent coronavirus from entering human cells, as shown in this link.
https://today.oregonstate.edu/news/oregon-state-research-shows-hemp-compounds-prevent-coronavirus-entering-human-cells
Use Code SeniorAffair25 for a one-time discount.
Upstate Elevator Supply Co.
30mg Organic Full Spectrum CBG+CBD+CBDA Capsules
Upstate's Full Spectrum 1:1:1 ratio CBG + CBD + CBDA capsules are potent, simple, and revolutionary. The best-selling formulation is the first certified organic Full Spectrum blend of these three powerful cannabinoids available anywhere. By carefully combining extracts from multiple hemp varieties and extraction methods, they created a supplement containing a more diverse ensemble of non-psychotropic cannabinoids than you would find occurring in any single hemp variety.
Elixinol
Active Sports Gel
Combining Broad Spectrum CBD and a powerful blend of ingredients, Elixinol Active Sports Gel is ideal for pain relief on the back, shoulders, joints, and elbows. It provides a penetrating, warming feeling.
New England Hemp Farm
CBD Ultra Moisturizing Body Butter
New England Hemp Farm Body Butter is an organic moisturizer with hemp oil and high-quality CBD.
Clothes and Footwear gifts
Git-up Women Wide Soft Memory Foam Slippers
Adjustable for the width of your feet, if arthritis, edema, or swollen feet are an issue, these water-resistant house slippers may offer relief.
OrthoFeet
Orthopedic footwear for men and women
Porto Canvas – Gray
Premium orthopedic insoles with anatomical arch support (removable) and Arch Booster re-align the foot and entire body posture. Wide toe-box alleviates pressure on swollen feet, bunions, and hammertoes.
OrthoFeet every shoe, sandal, and boot features technology for pain relief for men and women. We reviewed and loved this shoe for men.
LongBay Men's Memory Foam Slippers
These adjustable men's house shoes have a warm fleece lining and rubber sole, perfect for diabetics, arthritis, and swollen feet.
Gifts for Daily Life
Joywell
TV Remote Caddy for Recliner or Armchair
Here is a useful and durable holder for everything you need at your fingertips. With 6 pockets, you can keep your cell phone, eyeglasses, checkbook, and headphones handy and organized.
Fuse Lenses
Fuse has a great selection of sunglasses and name-brand frames, you can get prescription lenses even for outdated or discontinued frames. To protect your eyes from looking at screens, they have blue light glasses in various styles.
Beauty Gifts
Good Science Beauty
Good Science Beauty Collection
This Beauty Collection revives your skin while unclogging, minimizing pores, and plumping and rejuvenating your skin while evening out your complexion and strengthening your skin's elasticity.
Comes with:
001-Pu Purifying Face Cream
003-Hy Hydrating Face Cream
004-Br Skin Brightening Cream
005-Fi Skin Firming Cream
Use code Senior25 for discount
OneSkin
Topical Supplement
For a premium anti-aging face and body supplement and moisturizer, try OneSkin. Their blend of ingredients shows proof of helping with wrinkles and overall healthy skin.
Meal and Drink Gifts
Platterful
Charcuterie Board
Use your imagination and order an all-in-one kit or subscription from Platterful to get delivered one time or for months. They also have vegan and gluten-free options.
Plant-based meal delivery
Splendid Spoon has healthy food plans designed to help you create easy and healthy eating habits. With over 50 ready-to-eat meals, take meal planning off your to-do list!
Never drink plain, bland smoothies again!
Wine Awesomeness
2020 Lungarotti Cadetto Rosso Umbria IGT
Nearly two centuries ago, local Umbrian landowners, the Lungarotti family, were producing wine and olive oil in the Mid-Tiber River valley. Until the 1930s, Giorgio obtained a degree in Agriculture, focused on vineyard practices – and began covering the family hillsides with vineyards. The family winery has been established since the '60s, becoming one of the most famous Umbrian labels in the world. And in this red blend, you'll taste all of this familial love for the land in this bottle's Sangiovese and other local grapes.
Big Island Coffee Roasters
Big Island Coffee Roasters is Hawaii's most awarded coffee roaster. Specializing in small-batch, on-demand custom-roasted coffee, Big Island Coffee Roasters focuses on local, sustainable coffee that is unmatched in quality and flavor.
Mobility Gifts
Audien Hearing
Factory direct hearing aids
By cutting out the middle man, Audien provides affordable hearing aids starting at $99.
Copper Compression
Power knit Knee High Socks
You can get a 3-pack of these Copper Compression socks, perfect for relieving inflammation and issues like arthritis, tendinitis, carpal tunnel, and other nerve pain and neuropathy.
Use Discount Code Senioraffair for 20% off
Gifts for Daily Life
Everplans
Everplans is a secure online subscription service that guides you through organizing, storing, and sharing all your vital information, from your Will to all the types of insurance you have (often a lot more than you realize) to family recipes. Everplans guides and encourages you to complete small tasks that take no more than 5-10 minutes, so what seems scary and overwhelming becomes super doable and truly rewarding. Users can sign up for the platform directly or through a financial professional.
MendSleep
American-made adjustable mattresses from Mend Sleep are designed for you to adjust the firmness level by unzip-flip-zipping. The mattress features bouncy foam and a supportive, motion-isolating quantum coil that ensures pressure relief and excellent comfort for all sleepers in all sleeping positions.
SpineAlign
A chiropractor ergonomically designs the SpineAlign pillow that supports your neck and back for any sleep position; made with a breathable fabric and fully adjustable for your personal needs.